How works the monitoring code?
iPresso gathers all of the users' activities via the monitored websites. If you set your shop with Presta Shop platform and integrate it with our system, you do not have to worry about the monitoring process. Also, all of our integrations implement the tracking code and gather activities accordingly.
However, if your site is not integrated with iPresso, you have to monitor it properly. That way, you will get to know more about your users, and with that information take a precise marketing approach.
Add monitored website
Installation of tracking code will allow you to gather behavioral data on your website visitors, and to implement contents and Actions on Sites created in iPresso.
Paste the generated tracking code into the HTML of all the pages of your website right before the closing </head> tag, and into the URL address that had been provided earlier.
The tracking code may be also added via Google Tag Manager.
In order to generate the tracking code, first, you have to add your monitored website into iPresso. To do it, navigate to System, and select Monitoring from the menu on the left. Then select Site monitoring and click the Add button. A new screen will open, where you will be able to add the monitored website.

Fill in the fields in accordance with the following example:
Enter your website address: https://my-site.com
Domain: my-site.com

Get tracking code
Navigate to Site monitoring, click the more expandable menu on the left side of the relevant website address, and select get tracking code.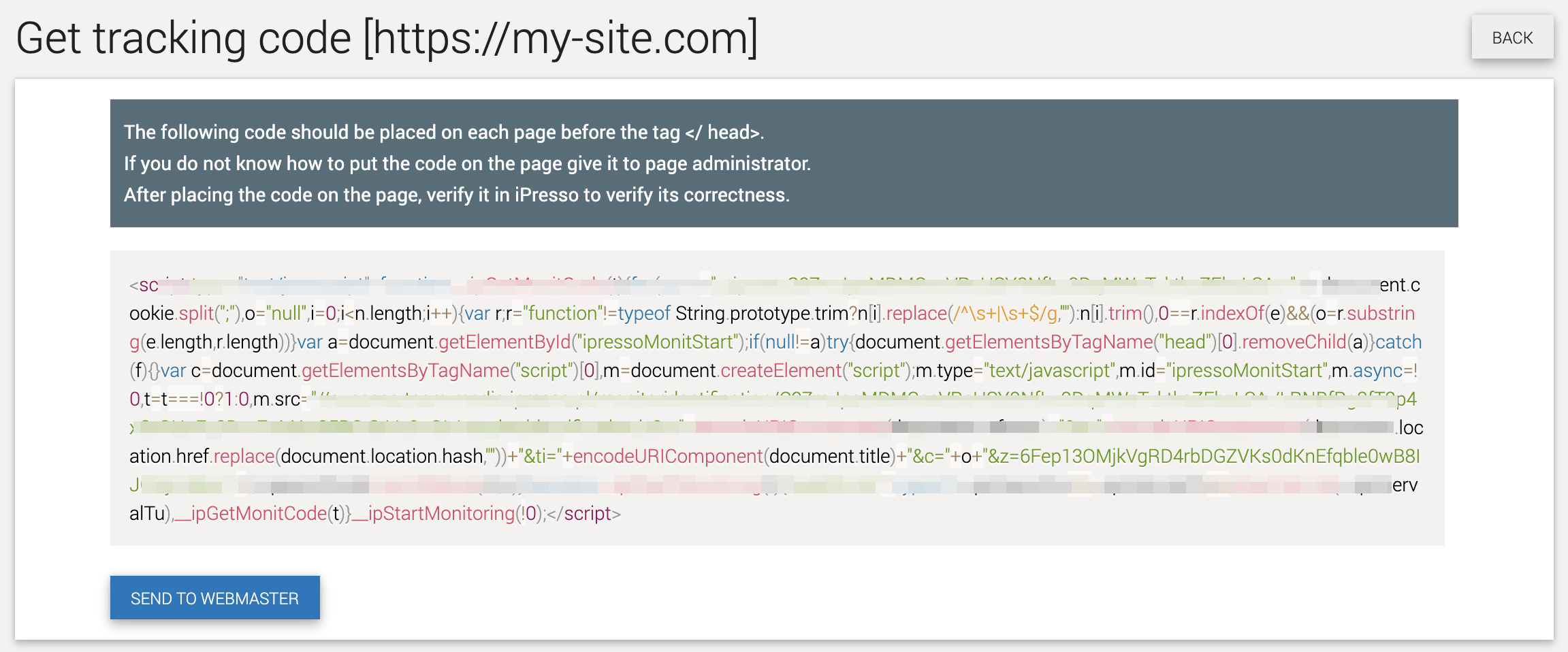 Remember: On one monitored website/page only one tracking code may be installed.
Check if the tracking code has been installed correctly
It is very important to verify if the code works correctly. In order to do it, click on more, then select check tracking code. After a moment, you will be informed about the code's status.

Remember: The information might not be displayed if you had used GTM to add the code.