Campaign report is one of the features of iPresso that allows you to track the results of your communications. It enables you to comprehensively explore the effectiveness of your campaigns and to compare conversion results delivered by different communication channels that had been employed within a campaign. You can track the conversion results for the following channels: email, SMS, web push, mobile push, on-site messaging (e.g. pop-ups).
Important note: Conversion results will be tracked starting from the moment when the report is launched, which means that no past results will be accessible. This is why it is vital to create and launch the report before the start of a campaign.
How to set up your first campaign report?
Navigate to Reports, then select Campaign reports. Select Drafts, and a new screen will open where you will be able to add your first report.
After clicking the Add button, the Settings screen will open, where you can configure the report.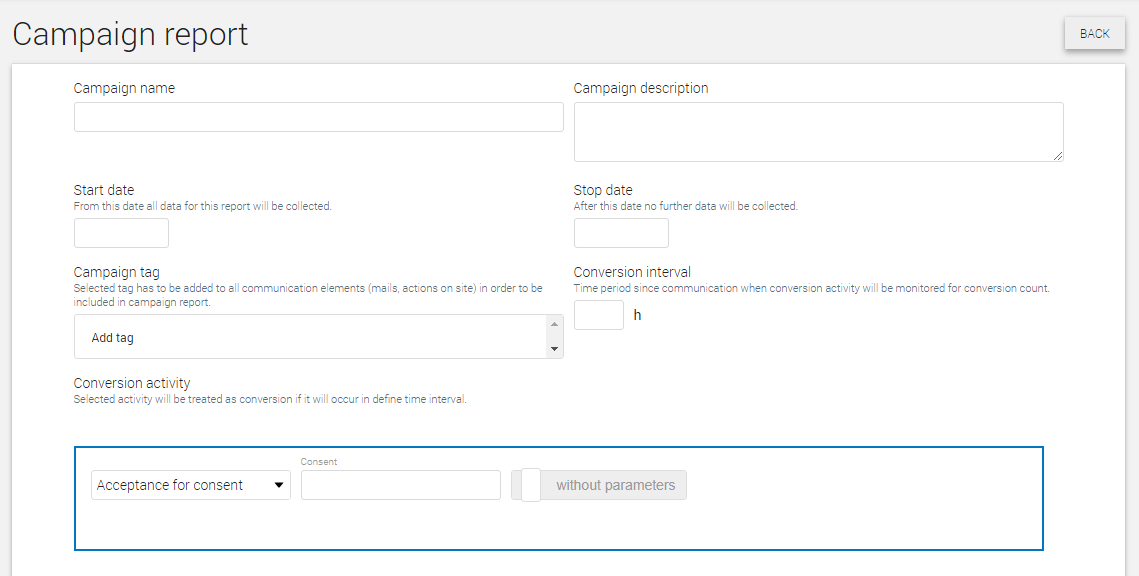 You can start the configuration by defining the Campaign tag. This is very important because the tag that you provide here will have to be used in particular campaigns' settings in various communication channels in order to make it possible for their results be collected in the report (at the end of this article you will find an example of how you can add a tag to a campaign). Then define Campaign name, select the Start date and Stop date (i.e. the period of time in which the data will be collected).
Finally, you need to select specific Conversion activity to be measured, for example a visit on a website, clicked link or product purchase. You can select the activity from the expandable list. Apart from default system activities, you can also define your own custom activities. The last part consists in setting up Conversion interval, which is the period in which the conversion activities will be tracked by the system. Optionally, you can add Campaign description to provide other users of iPresso with relevant information about what the report concerns.
After configuring all the settings click Save. You will be taken back to the Drafts, where you can launch the report by clicking the blue launch button.

The launched report will be moved to the Active section, and after the lapse of its End date - it will be moved to the Finished section.
The final report will be accessible in the form of convenient and clear charts, as in the example below.




Where can I add tags to a campaign?
Campaign tags, thanks to which data will be collected in the report, should be added in a given campaign's settings. You can see those settings in the example below.