Marketing Automation scenarios are one of the ways of running automated communications available in iPresso. This tool allows you to design automated paths of communication with your customers on the basis of their traits and activities. In this article, you will learn how to create your first scenario.
Navigate to Automation, then select Scenarios, and click Create new scenario. Scenario's Settings page will open. Specify the Scenario's name and its Start date.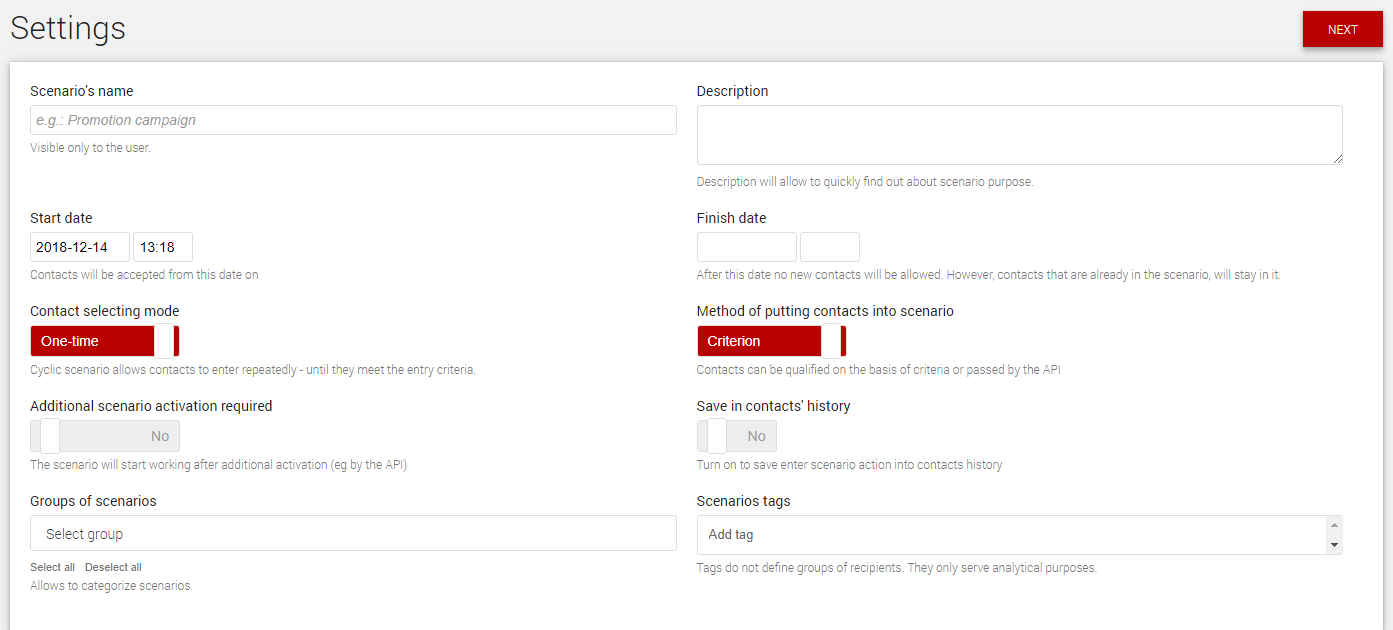 In the next step, Recipients, define the criteria that will have to be met in order for a contact to enter the scenario.
For example:
Contacts with
Activity Open e-mailing Greater than or equal *1* within *30* days
& add criterion
Attribute City Equals London
Then move to the next step, Scenario. You will see a working field with a default starting block in it. Now you can design a path of communication for your users. For example: you can create a scenario in which you send an e-mail, and then wait 24 hours for a recipient to open it. If they do open it, they move to the end of the scenario. If they don't, the system automatically sends them an SMS. See how simple this is:

Remember to draw connections between different blocks, and to use the [End] block at the end of each path. You also need to configure each of the blocks.

The block above wasn't configured correctly. When a block is configured correctly, the colour of the gear wheel is grey. In the case of emails and SMSes, the configuration consists in selecting a relevant message that had been saved as a For scenarios type of campaign.
When configuring an Opened e-mail block, it is necessary not only to select the appropriate campaign, but also to specify the time period (in hours) in which the system will wait for such an opening to take place. You can, for example, set it to 1 hour. If a user opens the e-mail within the hour, they will automatically move to the next block. Until then, the user remains in the Opened e-mail block. If the specified time period lapses without the e-mail being opened by the user, they will move to the next block on the No path.
After having set up the scenario, move to the Summary. If all the fields are marked in green or yellow, you can save the scenario. When the scenario is saved, you can use the blue launch button to start it.