Groups of actions - use of
Groups of actions on sites are used when you want to trigger more than one action during the same pageview.
Let's take a look at an example of a situation where we want to display two pop-ups to a visitor - one after a specified period of their inaction on the page, and the second one when they try to close the page - on pages that contain the word "contact".

If we launched those two actions separately, without putting them into a group, only one of them would be performed, i.e. the one that was launched last.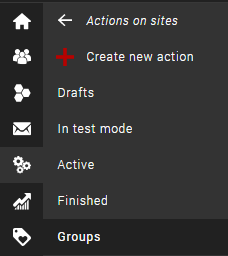 A group has to be defined in the system before setting up a given action. In order to do that navigate to Automation, select Action on sites, and click on Groups.