Presso Studio gives you the ability to quickly create and send SMS messages to anyone in your database (if they left their numbers at some point).

To add a new SMS, select Campaigns, then + Create a new campaign, and choose SMS from communication channels. After that, you should see a window with additional settings.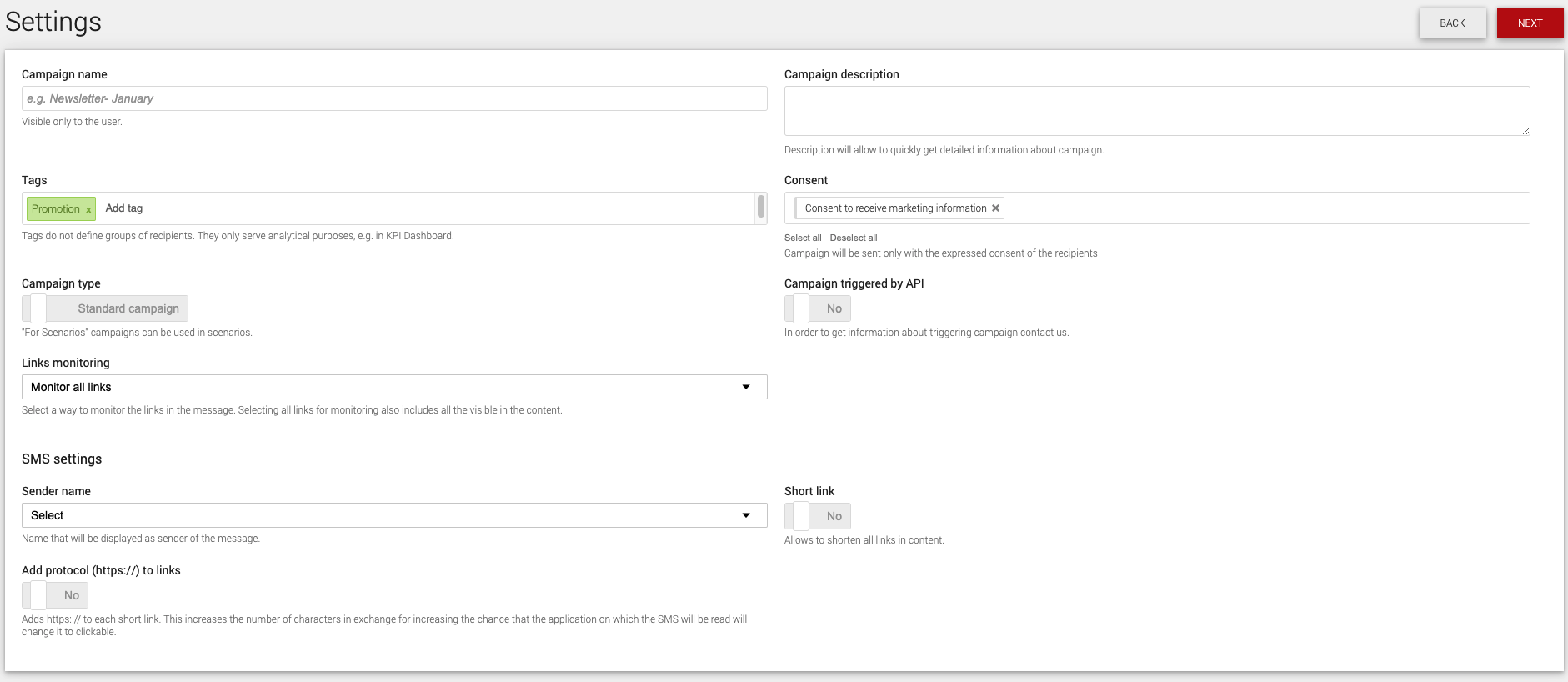 Here you can edit Campaign's name. Your campaigns can be tagged for easier creating future reports. To do that create an individual Tag. From now on various statistics will be gathered for future analyzes. In addition, the settings section provides functions like:
Consent – from the drop-down list choose a specific consent – your SMS message will be sent to everyone who has allowed it.
Triggered by API – this function is mainly for IT specialist usage, thanks to it they can prepare and send SMS messages through direct connection with the iPresso server
Campaign type – if you scroll the slider to the right, you can use the message you have created in various scenarios
Sender name – will be seen as sender info on the recipient screen. Remember not to use numbers when filling this field. In this field, you can use a maximum of 11 characters.
Recipients
In this section are gathered settings that allow you to send your messages for every recipient that left their phone number, or specific segments of contacts from the database.

When you choose a specific segment you can add additional requirements that must be fulfilled before a message will be sent. After filling in requirements on the right side you will see several contacts who will receive your message.
Content
In this section, you can create a message with a max of 160 characters. In addition here you can personalize content for specific attributes of your recipients.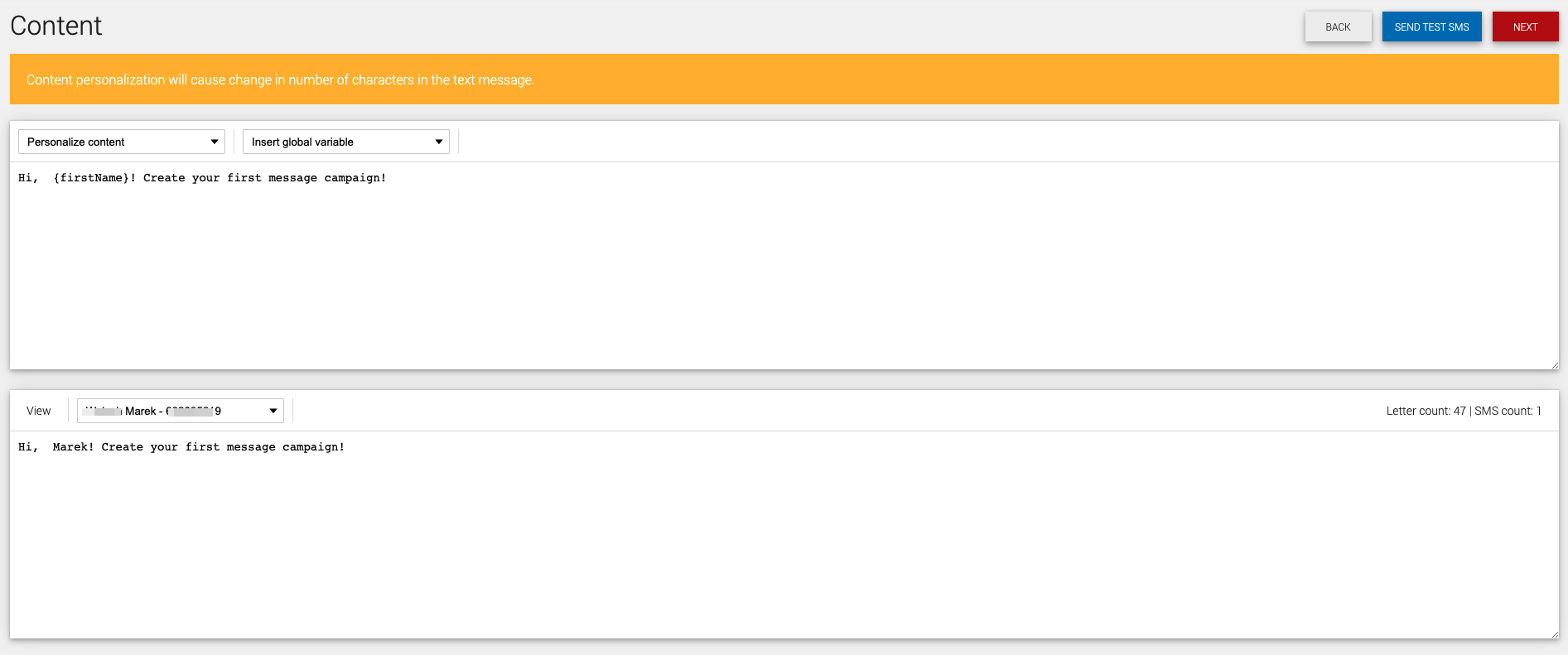 Summary
The last step in the process of creating your message is a summary. Here you will see which elements need to be properly configured (they are highlighted in red), and which are already correct (highlighted in green).
When you press Edit, you will automatically see a window with a field that needs to be changed. Your message will be sent ONLY if every element will be highlighted in green.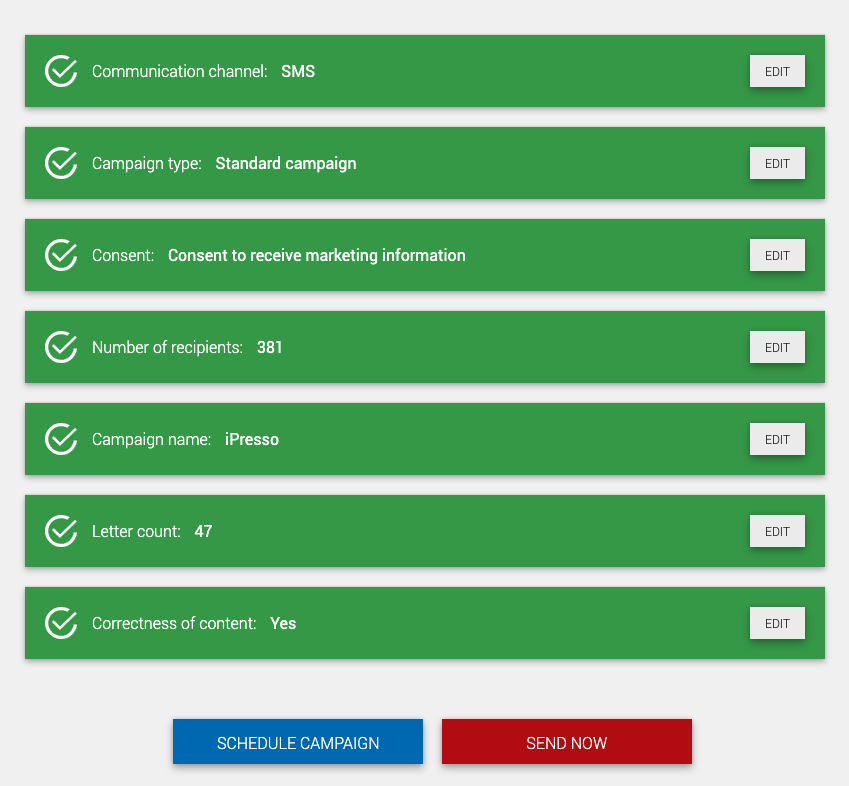 Lastly at the bottom of the page, you will have 2 options:
Schedule campaign

- to plan the time of sending your message, and

Send now

- to send it right away.