In Sending
You can access your ongoing campaigns in iPresso at any moment.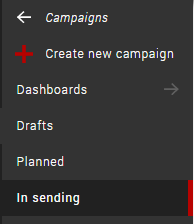 Navigate to Campaigns, and select In sending from the menu on the left. A list of the campaigns will be displayed with dates on which they are to be sent. You may stop the sending of a campaign. However, please keep in mind that it will not be possible to relaunch it, though it may be copied.
Planned campaigns
Your campaigns may be found in the Planned section in the following two cases:
When you schedule a campaign to be sent out at a future date and time, it is accessible in the Planned section until that date comes.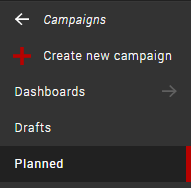 If you run A/B/X tests of a campaign, then the campaign will be accessible in the Planned section until the date of the test.