Slack is a messaging app that supports project management and team communication. It allows you to share not only messages but also files, images, PDFs, documents, and spreadsheets. It can be integrated with services such as Twitter, Dropbox, and Google Docs.
The integration of iPresso with Slack allows users to send notifications from iPresso directly to the app.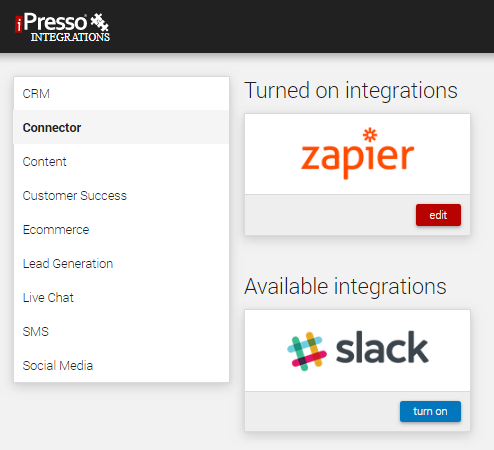 In order to integrate iPresso with Slack, navigate to the Integration center and select Connector from the menu on the left. Then click the turn on button below the Slack's logo, and move the Integration slider to Integration is on status. Confirm that you want to turn on the integration.
You will then be asked to log into your Slack account, authorize the access to the account by confirming your identity, and to select the relevant Slack channel to which the notifications will be sent.