With monitoring, iPresso records the activities of your contacts: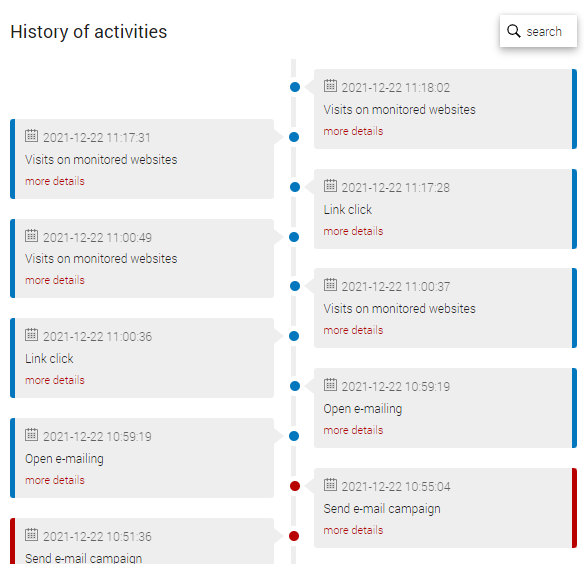 This happens because iPresso saves a cookie in the browser of the user of your website.
You will know that contact is monitored because this

symbol visible on the contact's card in the manager will be shown. Additionally, the beginning of monitoring can be checked in the contact's activity history:

How to make a contact being monitored?
First of all, your website should have iPresso monitoring code uploaded.
Then, an interaction with the user that saves a cookie in the browser needs to happen. It can be for example:
sending an email, opening an email by the recipient
clicking on a link leading to the monitored website
filling out a form on the monitored website
filling out a form in a pop-up on the monitored website
Remember that a user may use many devices, so also many browsers. In order to store their activities in iPresso, each browser they use has to store a cookie. It happens once they accept to store cookies in the browser.
The contact may be anonymous. If he/she agrees to cookies, we also monitor activities on the site, but we do not know who the person is. If, for example, they fill out a form, we will automatically link the existing cookie to the data they entered into the form.
If a contact deletes cookies from the browser, he/she is no longer monitored. To restore monitoring, this user needs to agree to the cookies again, e.g. by going to the monitored site and accepting the cookies.
Restrictions
For some time have been observing a trend where the owners of devices and applications block the possibility of monitoring contacts. Apple has blocked the third-party cookies on iOS by default. These cookies are the mechanism used in iPresso - the user has to mark consent for third-party cookies in his/her browser settings.