The domain is crucial to the deliverability of your emails.
First step: one or more domains?
If you're going to send transactional emails (e.g. with contract confirmation) and marketing emails, it's worth setting up separate domains for both types. You can purchase domains from many third-party services that also provide hosting.
Let's start the configuration
Once you have your domains selected and purchased, just let us know :)
You can do this through iPresso. Go to home -> system -> campaigns settings -> e-mail senders. Click ADD and then start the process of adding a new domain.


In the next step, enter the domain you want to add. For two domains, make two submissions:

You can also apply to add a domain by Jira - the same as for the other applications
Now, it's our turn
After your request, we will send you the necessary data to configure your domain in an Excel file. This needs to be done with your domain provider. Example of data to enter:

Once you have entered the values at your domain provider panel, get back to us with confirmation of the setup. We will authorize the domain, validate the entries and let you know, once the domain is ready to use.

Email sender name configuration
This is a good time to specify the domain sender name that is what comes before the @.
You will do this in iPresso by entering the path as below:
System -> Campaigns settings -> E-mail senders -> Add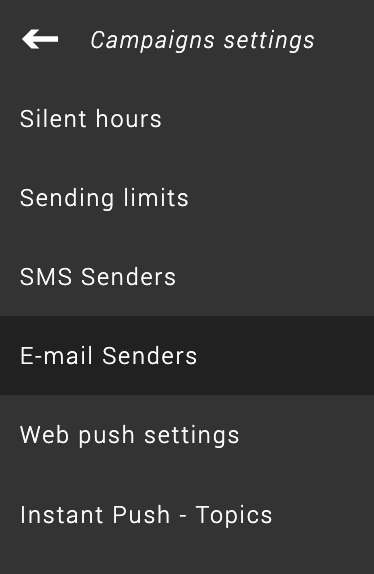 BIMI
Brand Indicators for Message Identification will increase your credibility as an email sender. With BIMI, you can add your certificate-verified logo to emails you send. Besides credibility, it also increases security - the certified logo is assigned to your domain, so no one else will be able to use it. This makes it much harder for hackers to impersonate your brand. Additionally, the BIMI translates into higher email deliverability.
The optional process of adding BIMI is not quick and easy, but for large companies, it is definitely recommended.
For more information about BIMI, click here: About BIMI.
Your domain is ready
Once you've configured your sender name, you're good to go with your mailings. It's worth remembering to "warm up" your new domain, as this affects its reputation and thus the deliverability of your emails.