Through the process of integrating iPresso with WooCommerce, you have the opportunity to integrate your iPresso account with WooCommerce online store management software. This will open up a number of new marketing opportunities. Communication and information between the systems is exchanged through an API.
Installation in iPresso
The first step necessary to integrate your iPresso with WooCommerce is enabling it in the Integration Center panel. In order to do this, go to the iPresso Integration Center, and look for the eCommerce tab. You will find the WooCommerce module there. Click Activate: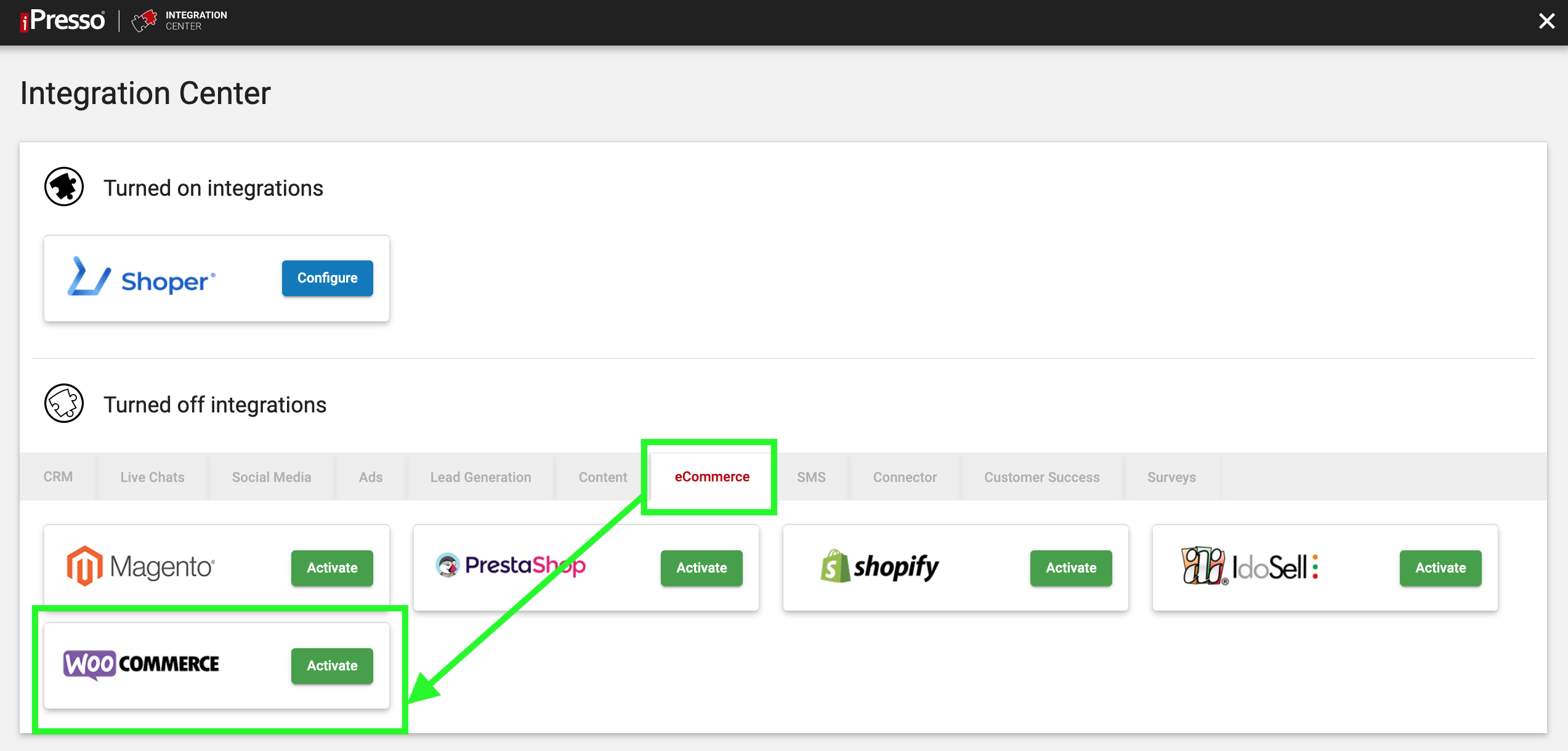 iPresso will inform you that the integration is inactive at the moment. Click the Activate button again (this time the one in the upper right corner):

From the consents available in the drop-down panel, select the one you want to relate to your store and after that - click Save.
Note that before you choose the relevant consent, the Save button will be grayed out:

Only after selecting the consent will you be able to use it: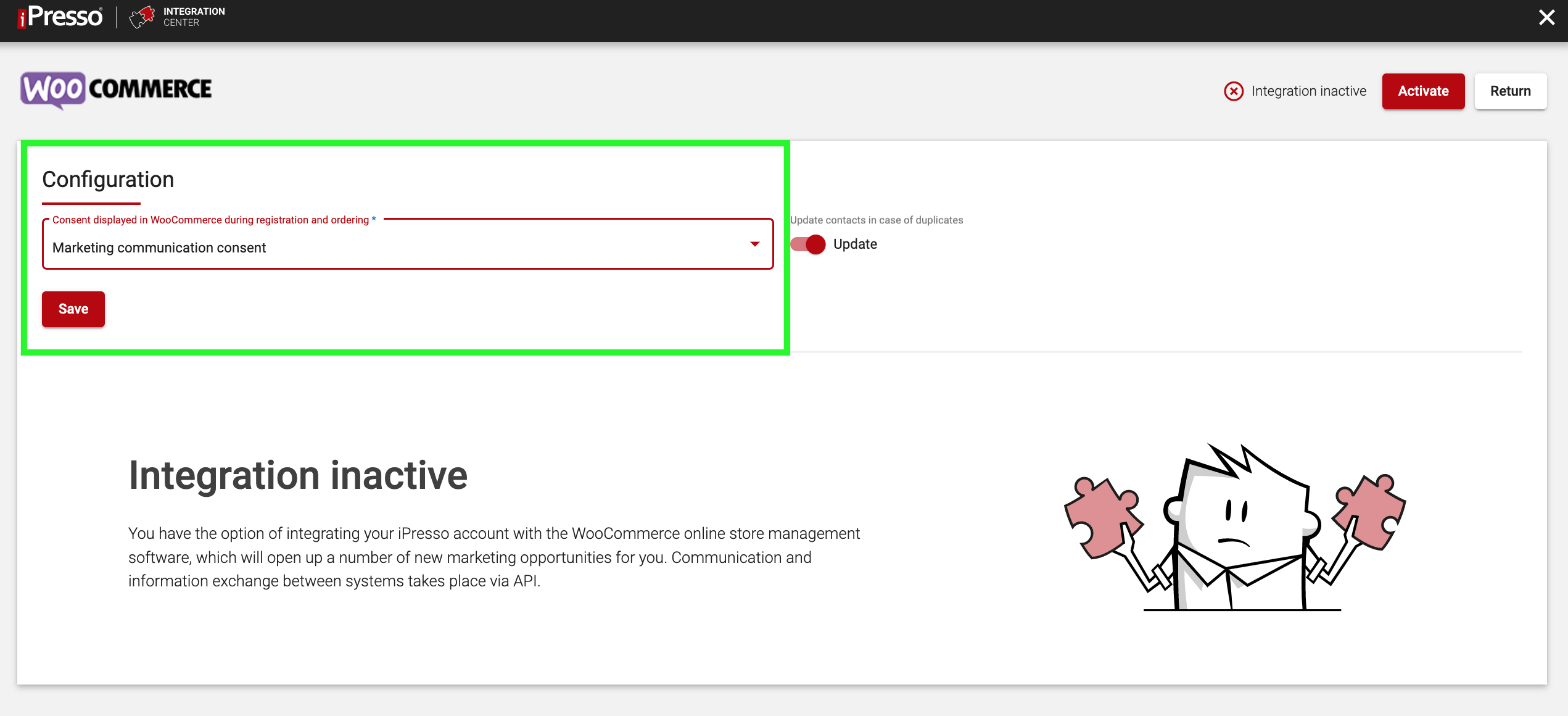 After saving, iPresso will display an API key that you will find useful later. Copy this key or do not close iPresso to use it later.
Now let's move to the WordPress part.
Installation in Wordpress
Now switch to the WordPress account.
Note that to complete the installation of our plugin,
WooCommerce must already be installed on WordPress.
Go to the Plugins tab located in the bar on the left. In the search engine (upper right corner), type ipresso and confirm that with the enter key. The system will search for our plugin, which needs to be installed on WordPress. To do so, click Activate: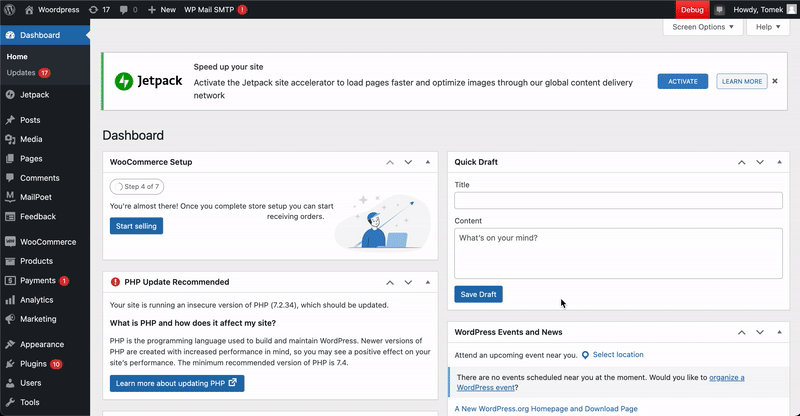 Now hover over the WooCommerce tab, also located in the WordPress bar on the left. From the drop-down list choose Settings and go to Integration tab. A new panel will open. Find and select

under the tab bar in the middle of the page:

Go to your iPresso account and copy the API key we mentioned earlier. Paste it into the API Key tab in WordPress. Click Save changes.
The whole process should look like in the video below: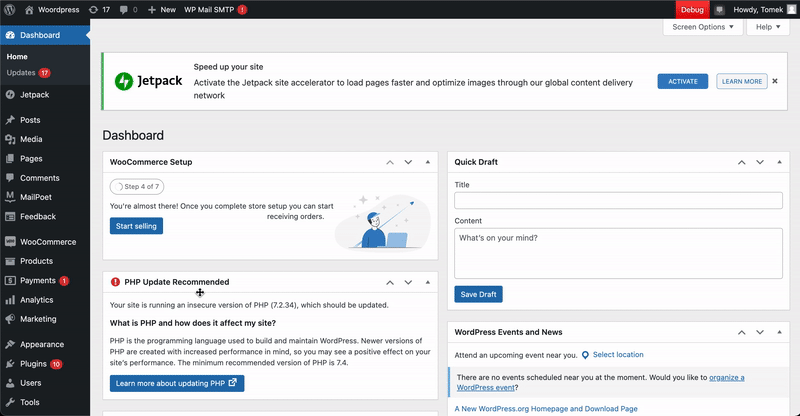 That's it! Now all purchases in WooCommerce shop made by customers from your iPresso database will be shown in their activity history and can be used for your further marketing actions.