Introduction to segments
A segment is a specific group of contacts from a base that has been identified by means of segmentation. The main purpose of segmentation is to identify a group of contacts in order to target them with a specific action.
You can find more information about segmentation here.
Creating a segment
To create a new segment, navigate to Segmentation, then select Segment creation: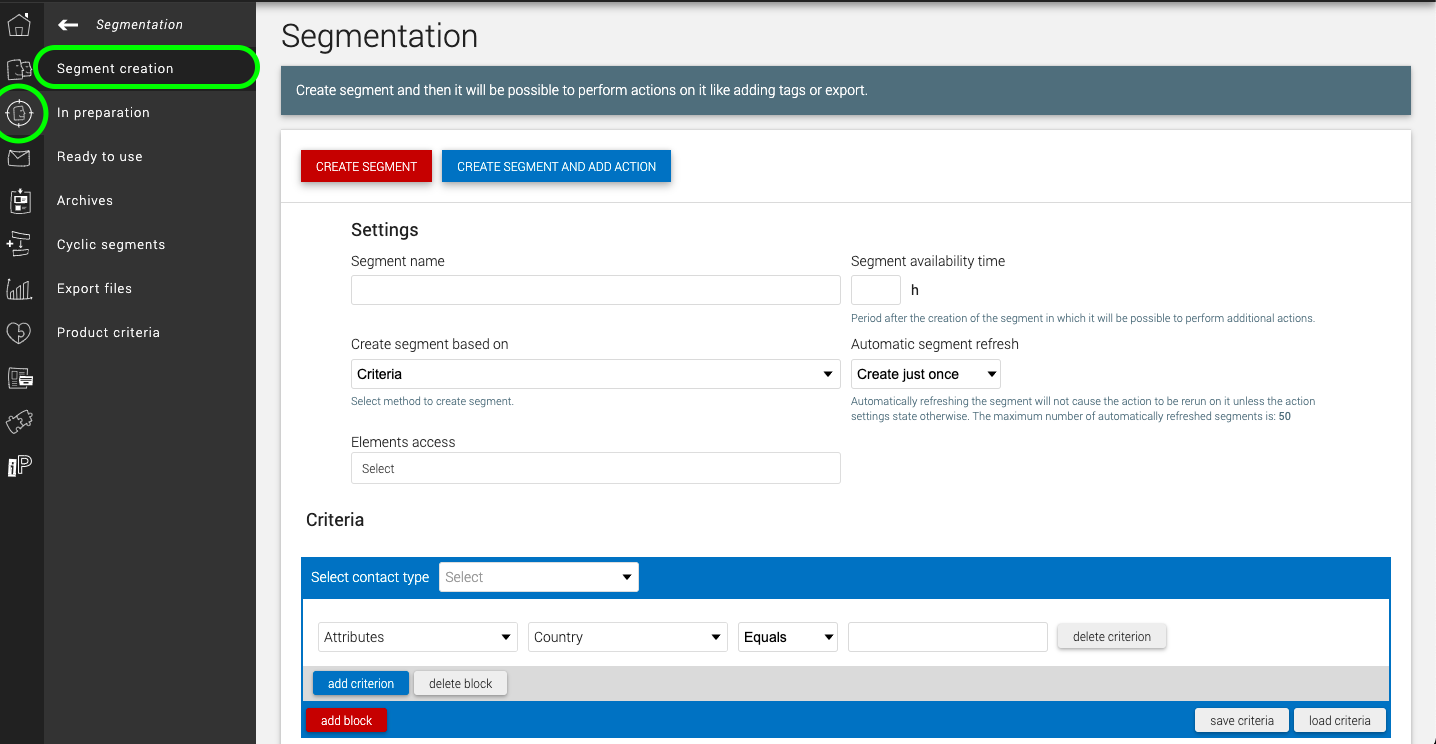 When creating a segment, you have to name it, specify the time period within which it will be valid, and decide whether you want it to be generated just once or automatically refreshed. If you select the Refresh automatically option, the segment count will be updated according to the time interval that you set up. If you generate a one-time segment, it will be calculated only once. After the validity period lapses, the segment will be added to the archive, where you will have the ability to refresh and recount it, as well as copy it, and generate new segments on its basis. You also need to select criteria on the basis of which a group of contacts will be built.
After you configure all the elements and click Create segment, it will be moved to the Generating section.

After a short moment, it will be Ready to use.

This section shows segmentations that have already been calculated and on which additional actions can be performed. After the standby time expires, they will be moved to the archive and you will not be able to perform actions on them.
You can see here such information about the segment as:
Name, Creation Date, Expiration Date, Number of contacts in the segment, Types of actions on the segment.
You can also select the following commands from the drop-down list: action list (actions that have been or will be performed on the segment), go to contact manager (this option allows you to suspect which contacts have been in the segment), view, copy, edit settings and delete.
In the left menu you will find the Archive section:


It shows segments whose standby time has expired and on which no additional actions can be performed. The following segment information is available here:
Name,

Creation date,

Expiration date,

Number of contacts in the segment

Types of actions on the segment
Here you can also check the list of actions performed on a segment, copy or delete it and, in the case of cyclic segmentation, see its history. The history of a segment records the number of contacts that belonged to it after each recalculation.
Selecting the View command will display the Settings and Criteria on which the segment was built in the Create Segment section.
The Segmentation tab also includes the Export Files section. The segments for which the Export action was performed are available here. The files can be downloaded for one week, and then they are automatically deleted.