The cyclic report allows you to verify how the number of contacts in a segment is changing and download this data to a csv file. This is done over time for the number of days in the report interval set by the system. Cyclic segments work best for this, as they automatically refresh the number of contacts selected based on the criteria you specify.
How to create a cyclic report?
To create a cyclic report in the navigation bar, select the Reports module and then click Cyclic Report. To add a new one, click Add:

Then fill in the necessary fields:
Interval

- allows you to specify what period for refreshing the report you give the system. The minimum interval is 1 day

Add segment

- you specify here what segments you want the report module to verify

Element accesses

- you can specify here the permissions to access the report for people using your system:

Once the report is created, it will wait to run. In order for it to start collecting data you need to launch it:

Once the report is running, a drop-down labeled more will allow you to stop, delete or edit the report: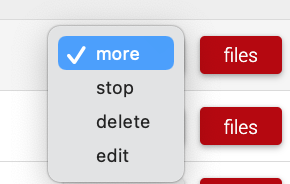 In the main panel of the Cyclic Report, you have the option to search for a specific one using its name. To do so, click Search. A field will open for you to fill in the name of the report.

To download the report data as a csv file, click files. The system will start downloading: