Website monitoring
The Marketing Automation system monitors user activity on websites on an ongoing basis. This monitoring allows you to gain a better understanding of potential customers' expectations and preferences and to tailor your communications to their needs.
To monitor traffic and user activity on your site, start by plugging the monitoring code into your site (instructions).

After plugging in the monitoring code in the startup panel, we will see data regarding the visits on the monitored site. The data will be deposited only when the monitoring code (tracking code) is properly plugged in.
If you have more than 1 website, and you want to collect data from each site, you need to plug in the monitoring code for each of them.
To enter the preview/edit list of pinned monitored sites, go to system -> monitoring -> site monitoring.

From here we can add new monitored sites and generate a tracking code for them.
Report views
Here we can also check the page view report of a particular monitored site in a specific date range. The page views report shows the number of page views of a site, broken down into recognized and unrecognized page views.

Sample page view report: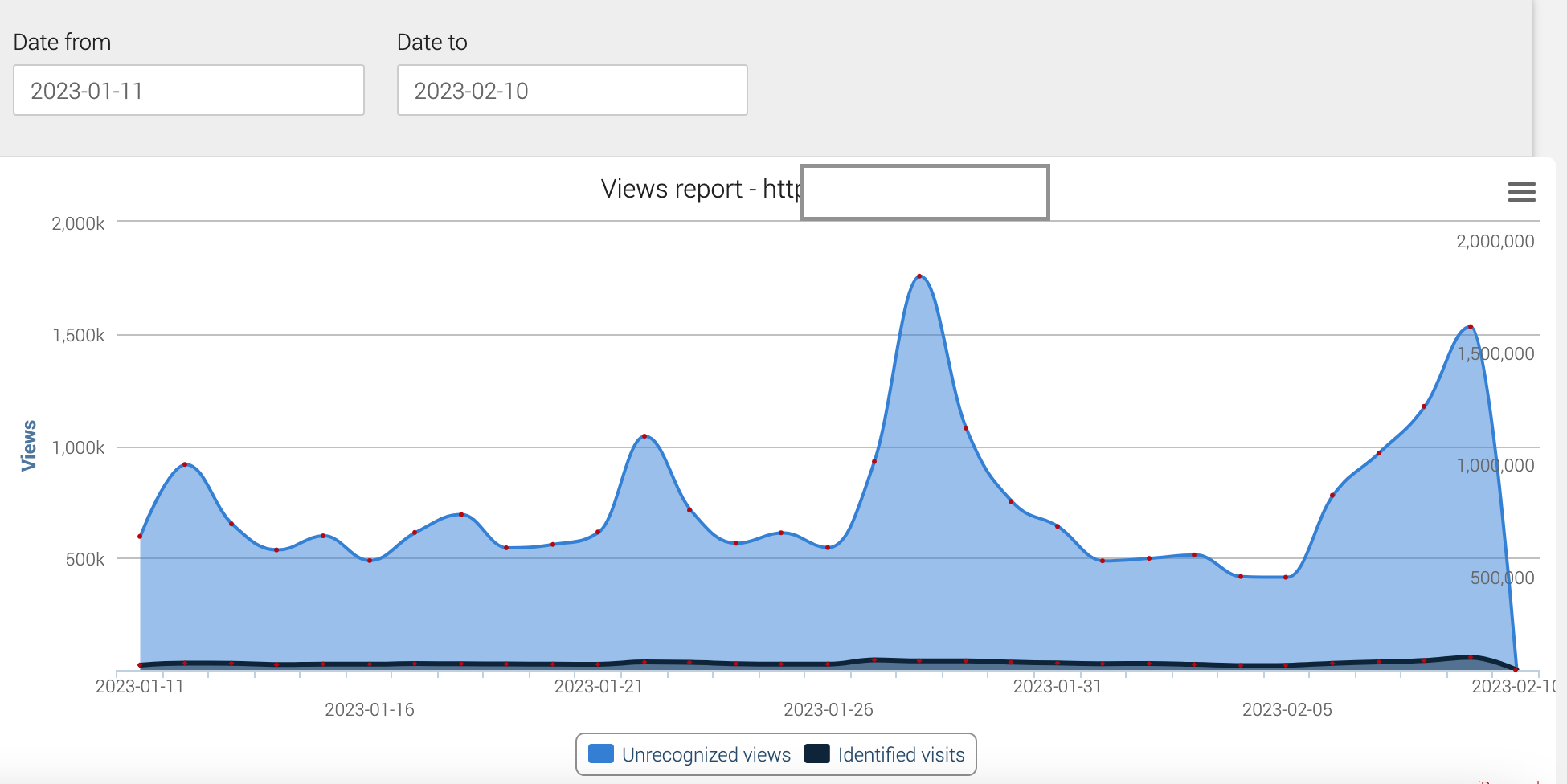 Identified page views
Identifiedpage views are page views of users who have already been monitored by the tracking code fastened to the site and associated with a specific contact in the system. Recognized users may use different devices, nevertheless, using their IP address, the system recognizes them and is able to combine their activities from different devices into 1 monitored contact history.
Unrecognized page views
Unrecognized page views - these are the activities of so-called anonymous contacts who move around the site, while they are not monitored, and we do not have data on these contacts in the system.
The embedded tracking code on the site collects data such as:
the number of hits on the site on a given day

information about who is currently on the site

the page view time of a given user

information on which tab the user was on and how long he/she browsed it

information on what device, system, browser and IP the user was accessing the site from
Based on the collected activity and behavior of the user on the monitored sites, we are able to accurately target personalized content to the user.