Dictionaries in the iPresso system is the place where you can find a collection of data used in your campaigns or information about contacts located in iPresso.
Location of Dictionaries in the panel
To find the dictionaries in the system, follow the path:
start -> system -> dictionaries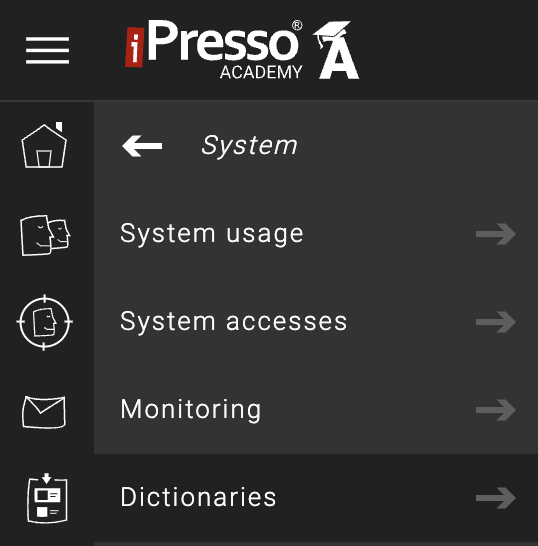 After navigating to the Dictionaries tab, you will see the following options, where you can check the previously implemented data, add new ones, delete existing ones or edit them: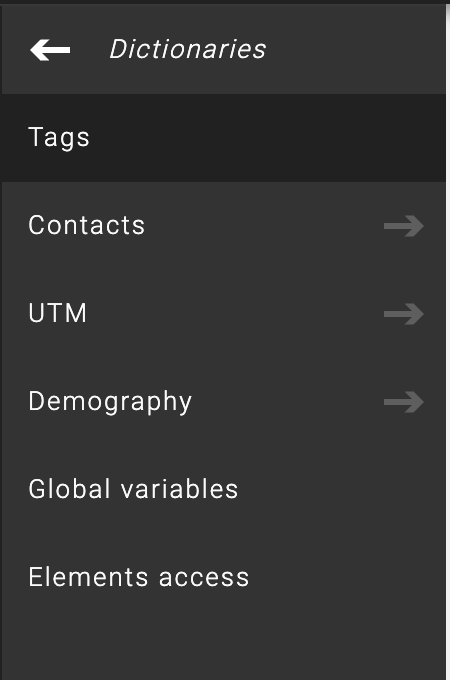 Tags
Tags - used for tagging contacts, e.g. through scenarios or segmentation, and for tagging campaigns. From the dictionaries, it is possible to manually add new tags or import them via a previously prepared CSV file

Contacts
Contacts - contain all information that can be stored on a contact and are divided into: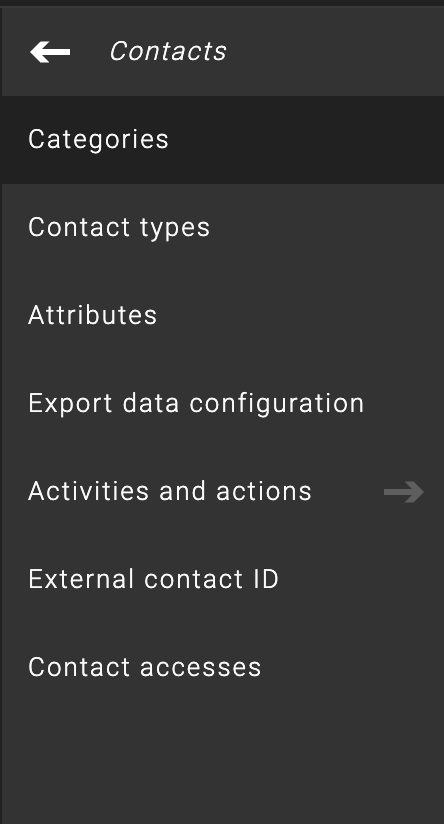 categories - similarly to tags, they are used to tag contacts, but the history of assigning and deleting categories is saved in the contact's history and can be used for additional functionality such as shipping restrictions,
contact type - allows you to specify the type of a given contact, what relationships it may have with other contact types and unique attributes. An example of a contact type could be a child who is associated with a parent,
attributes - one of the most important elements associated with the contact is where all the most important features of the contact are located,
data export configuration - allows you to configure more advanced export criteria, it is possible to specify the exact attributes, activity with parameters, and the format for saving data. Configuration can be used as a type of action on the created segment,
Activities and actions - like attributes two important elements in iPresso. Here all the activities that can be done by a contact or system in the form of an action are defined. Then after the activity or action is performed, this information if sent to the system is saved in the contact's history. Here you can find all system activities and actions as well as user-defined ones. Here you can also define the parameters of a given activity or action and then assign them,
access to contacts - used to restrict access to contacts from other iPresso system users, e.g. in the case of sharing an account with other users

UTM
UTMs - are marketing parameters that are used to get full campaign data. Once UTMs are created, they are added to the end of the URL. They can be used, for example, in email blasts.
Demographics
Demographics - this stores information about countries, cities and provinces.
Global variables
Global variables - serve as additional variables that can later be used in communication channels. You need to specify their name, API key and type.
System accesses
Accesses to elements - used to restrict access to specific elements of the system from other users of the system, e.g. popup creations